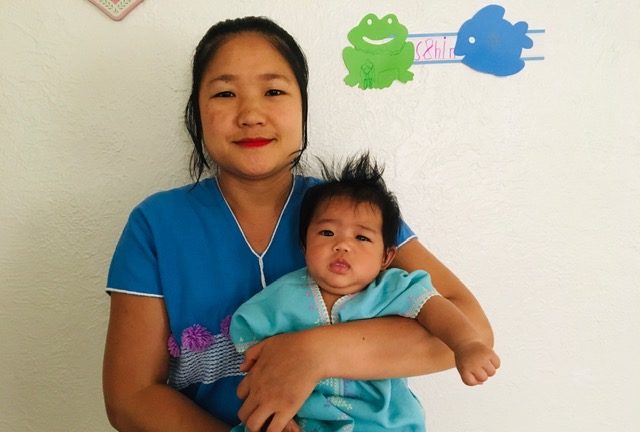 Without a pandemic, having a baby is a stressful time. Sleep deprivation, hospital bills, trips to the doctor, and postpartum depression can all put a strain on new mothers. Adding in concerns around COVID-19 just compounds that stress.
Julyna Loo runs KOM's Postpartum Home Visit Program. The program is a partnership between KOM, WellShare International, and M Health Fairview Clinic – Roselawn. It currently serves 37 mothers and works to support each mother and connect them with the resources they need.
"I love working with them on family planning and providing education so they have a better understanding of the options available to them in this country," says Julyna.
She meets with each mother at least four times. She spends most of her time connecting mothers with resources like pediatricians. Since the pandemic began, she has had to conduct all of the home visits virtually. The most difficult thing for her has been, "not being able to illustrate/demonstrate using objects and models."
We spoke with one mother, Mya Nay (pictured with her baby Shiny Bather above), about the last few months in the program.
Mya says that Julyna has provided her information on how to keep parents and kids healthy, connected her with helpful resources, and dropped off supplies at her house.
"Having a baby during the COVID-19 is a big challenge for me. After going outside and seeing other people, I always worry for my kid. We can go to parks but can't visit our relatives and they can't come to my house as well. COVID bothers me a lot, even going for an appointment with a doctor, I did not feel safe for my child and myself," says Mya. "Sometimes I feel like COVID is putting a divide between me and my child."
To cope with that stress, Mya says she has been gardening in her backyard and praying.
She has still had some wonderful times with her newborn. "Talking to her, holding her every day and her physical and mental development are growing day by day, these make me happy all the time," she says.
Contact Julyna Loo at jloo@mnkaren.org or call 651-202-3128.