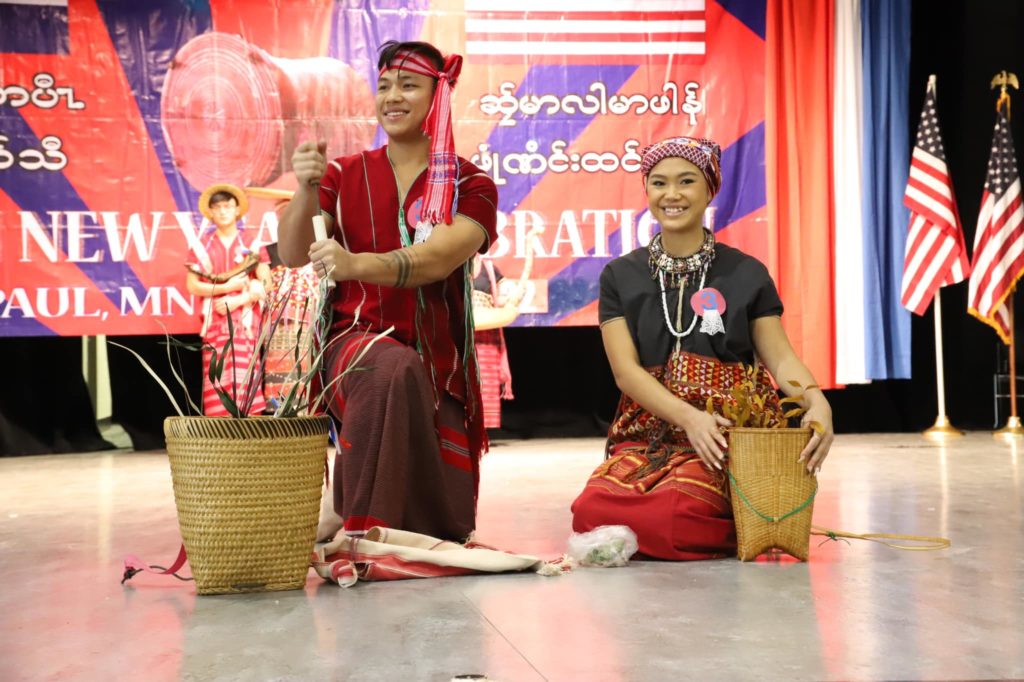 Music, cultural demonstrations, and meaningful speeches marked the beginning of another year in the Karen traditional calendar. Although this event was smaller than it has been in the past, many still gathered to celebrate.
Photo above taken by KCM photographers of the traditional culture show at Karen New Year in St. Paul.
Main Ceremony
Beginning with a salute to both the Karen flag and the flag of the United States of America, the ceremony continued with traditional song and dance performances. Families, friends, and neighbors sat together and learned about the history of the Karen flag and Karen New Year.
The keynote speaker was Paster Paw Tel Hsa Htoo, chair of twelve Karen Baptist Churches in Ramsey County. Other guest speakers included Sia Her, Council on Asian Pacific Minnesota's Executive Director, Julie M. Maidment, Deputy Chief of Operation Division of the Saint Paul Police Department, and Commander Axel Henry of the Saint Paul Police Department.
Singing Competition and Traditional Culture Show
Soloists, duets, and small groups competed in a singing competition of Karen cultural songs. First place winners, Titer Haw Min and Rebeca Paw Moo, sang a duet called May Ya. Watch them perform on stage.
Pairs in the traditional culture show wore Karen clothing representing different regions through the colors, patterns, and styles. They carried traditional tools for farming, rice cultivation, hunting, fishing, and more. Some of the contestants also had Karen instruments, such as the buffalo horn, a flute, and a harp.
Sponsors
Thank you to all the sponsors who supported this community event.
Platinum level: JBS Worthington, Lexdan Automotive, Home Sellers
Silver level: First Karen and Burmese Home Health Care
Many thanks to everyone who helped organize or participated in Karen New Year this year. Ta blut doh ma!