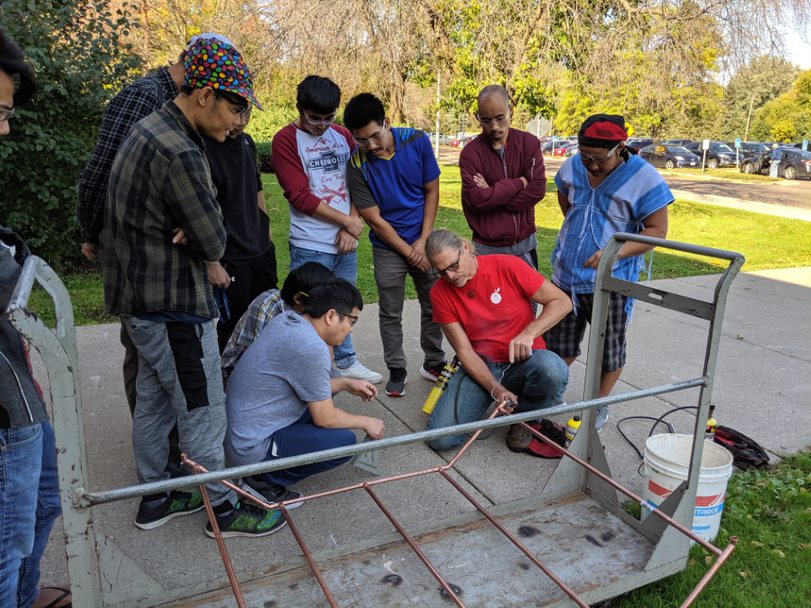 This fall, new sessions of our adult career pathways programs are starting up again, and there is still time to get involved. Below, find information on programs currently looking for more participants, and see the impacts of our employment services initiatives.  
Pictured above: Past AMR program activities. 
Apprentice & Manufacturing Ready (AMR)
KOM's Apprenticeship and Manufacturing Ready (AMR) program is still looking for more people to join the class starting this fall! This class will teach the basics of trade math, using hand and power tools, communication, safety, and more skills to prepare for a trades career. This year, participants who complete the portfolio and projects can also earn a high school diploma. AMR incorporates trades knowledge into the competencies required for a diploma like civics and health. If you or someone you know is interested in working in construction, finding a stable career, and hands-on work, this program may be a good fit.  
Dates and Times: September 20th – May 20th, 8:30am – 12:30pm Monday through Friday. 
Address:  Roseville Adult Learning Center, 1910 County Road B West 
To register and get more information, please fill out our online form as soon as possible.  
Healthcare Careers Exploration (HCCE)
Our Healthcare Careers Exploration Program (HCCE) started at the end of August, but it's not too late to get involved! Through this program, participants will have the chance to explore different healthcare careers, learn about putting together job applications, and more. Classes are ongoing until the end of November. Eligible participants are unemployed or working part-time, identify as Southeast Asian, and want to find work in a healthcare setting.  
You can learn more about the program by watching our video, or by contacting Nali Puday at npuday@mnkaren.org or 651-356-8615. To apply for the program, you can fill out our online form.  
Soldering Training Program
The next round of KOM's free 7-week soldering training program is starting soon, and there's still time to join! Through this program, participants will learn soldering terminology and techniques, manufacturing math, and job-seeking skills. They will also receive support from a career counselor. After the program, participants will be IPC certified, and receive additional job placement support. 
This program is full-time, and available to people of Southeast Asian descent who are not currently enrolled in high school. For more details, see our informational video about the program in Karen. You can also visit our website, or contact Career Development Counselor Lisa Gibson at 651-243-1235, to learn more.  
Program Success Stories
One recent success story from KOM's employment services programming comes from our youth career pathways initiative.  
Two of our What's Next youth career program students, Neg Kui Moo and Heh Kyer Htoo, completed their first year as Right Track interns with Tree Trust this summer. At Tree Trust's end-of-year celebration, Neg Kui Moo was recognized with the Governor's Award for going "above and beyond" in his accomplishments, while Heh Kyer Htoo was presented with the Perfect Attendance Award. Chris, a Tree Trust Career Counselor, said, "Any business that is hiring, hire this guy (Neg Kui Moo). He is a bulldozer. Watching him work is always so impressive." 
We are extremely proud of our students for their hard work and are excited for them to share their experience with future What's Next cohorts!  
Many participants have also been able to learn new skills and find success through our adult career pathways programs. Check out other past articles on our program impacts: 
How AMR Has Impacted Clients: Law Ray's Story 
Solder On: Inside KOM's Soldering Training Program 
If you or someone you know is interested in joining one of our employment services programs, don't hesitate to reach out, or follow one of the links above to sign up and receive more information!