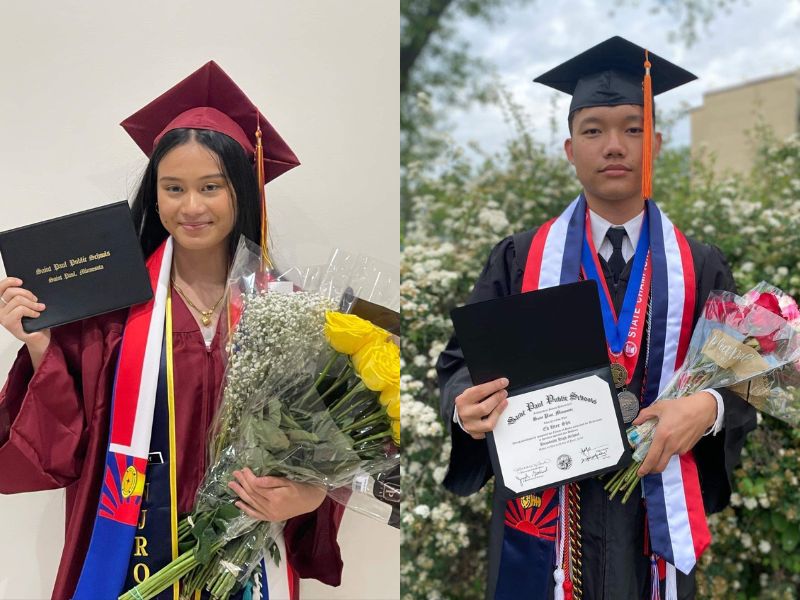 Eh Klay pictured (left), Eh Htee Shu Pictured (right)
We have two outstanding High School graduates this year!
Eh Klay
First up is Eh Klay, who graduated from from Harding High School.
A quote from Eh Klay as she heads out into this new chapter of her life is "I'm doing this for me, not for others."
Mular Lerpwel, a KOM Youth Development Counselor who leads the after school program at Harding High School has this to share, "Eh Klay has been really helpful with helping her peers with their homework this year since she is a senior who has taken some of the classes that they were taking. I am very thankful for her and appreciate her generosity." Eh Klay also was voted "Most Achieved" in the EL department at her high school.
Eh Htee Shu
Our next graduate is Eh Htee Shu, graduating from Humboldt High School.
Eh Htee Shu shares this on his experience and his future endeavors, "First and foremost, I'd like to thank God for his guidance and protection. Through the good and hard times, he's been with me every step of the way. Because of his blessings, I am where I am today. I also like to say thanks to my mom for being such a strong woman. She sacrificed so much for me to receive this diploma. To make her proud, I will go all the way and get my Masters!"
"I had the great honor of presenting Eh Htee Shu with the Flipside Leadership Award at Senior Honors Night for his outstanding leadership and commitment to helping the younger students with their school work in my program. I am extremely proud of his accomplishments and wish him the best in the next chapters of his life," shares Kyaw Kyaw Htwe, KOM Youth Development Counselor.
We are so proud of both of our graduates and can't wait to see what the future holds. We wish you the best of luck!