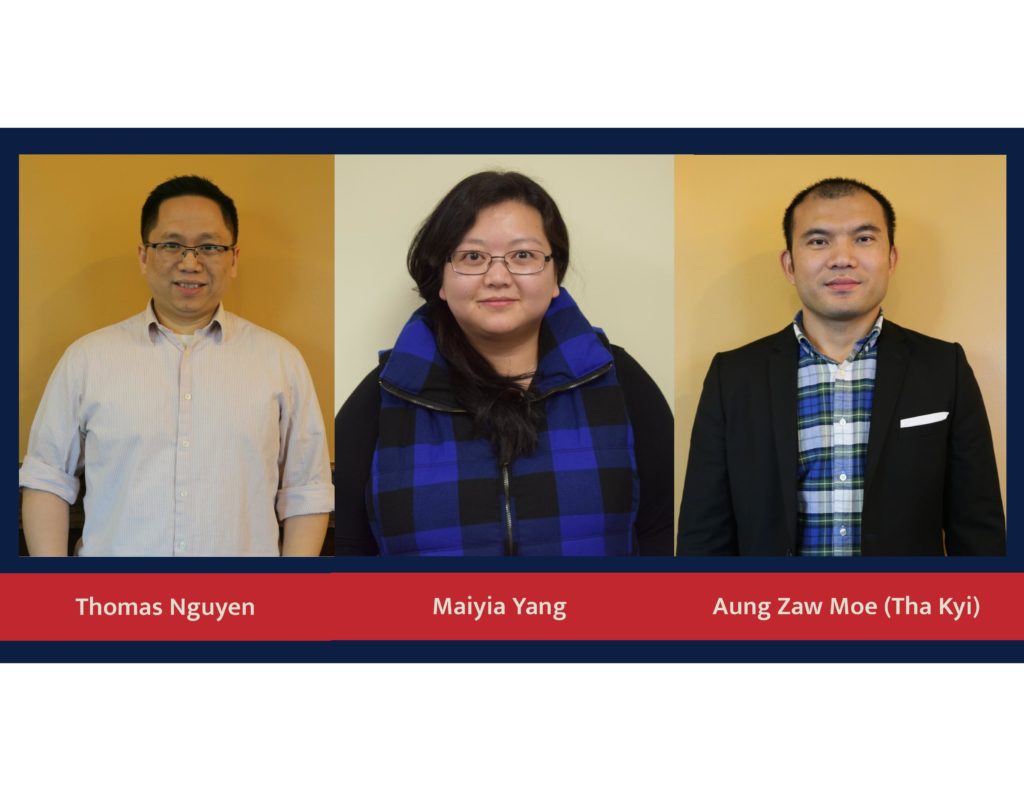 Maiyia Yang, Aung Zaw Moe and Thomas Nguyen have contributed so much to KOM during their terms on our board of directors. As their terms have come to a close, we want to highlight their dedication and commitment to KOM and the Karen community in Minnesota.
Maiyia Yang served on KOM's board both on the Development Committee and later on the Finance Committee from October 2014 to December 2017. As Alexis Walstad, Co-Executive Director of KOM, said, "Maiyia was really thoughtful, engaged, a good problem solver and willing to help out. She helped a lot with our gala planning when she was on the Development Committee, and when she switched to the Finance Committee, she helped to make our finances transparent and understandable."
Thomas Nguyen served as a KOM board member and was part of the Development Committee from December 2014 to December 2017. Thomas was highly engaged in a lot of areas, and secured some of the sponsorships for our galas. He was also very passionate about providing training and support for staff members. Alexis said, "Thomas would ask about how staff were doing, especially during our leadership transition, and was always looking out for the health of the organization." He also shared many good mental health resources with the organization, which have been invaluable.
Aung Zaw Moe, formerly Tha Kyi, was a board member for KOM for six years, from January 2012 to December 2017. He came on the board right at the time of the previous strategic plan and brought a younger Karen voice to the group. Eh Tah Khu, Co-Executive Director of KOM said, "Aung Zaw Moe was an expert when it came to community engagement and had many connections with the community as he spoke both Pwo and S'gaw Karen."
Thank you to each of them and we wish them all the best!