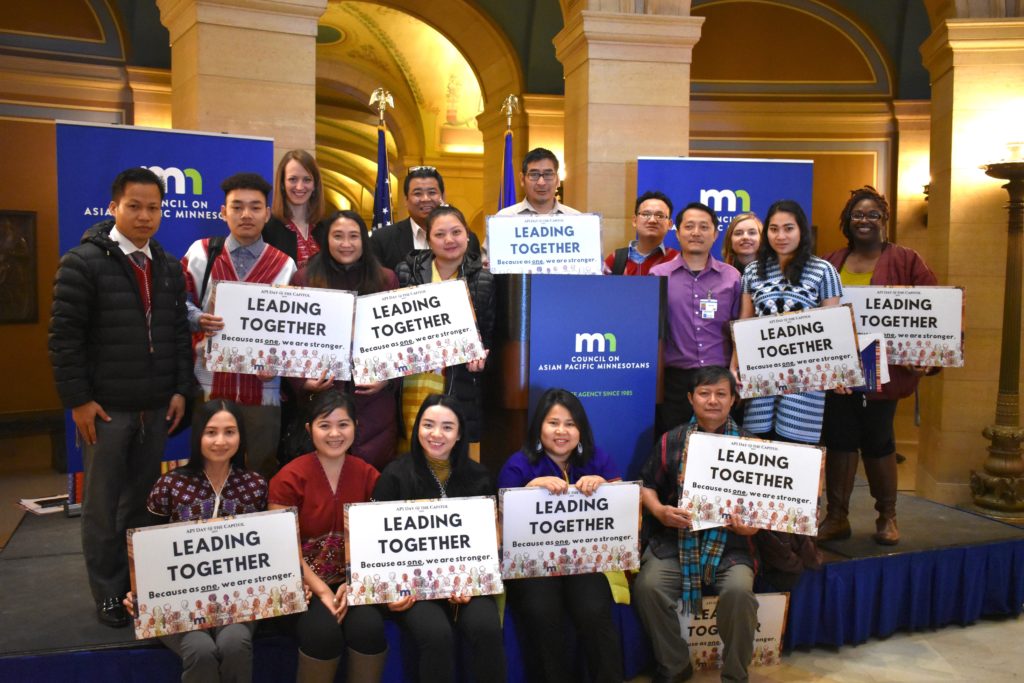 March 19th was the annual Asian-Pacific Islander (API) Day at the Capitol. This event, organized by the Council on Asian Pacific Minnesotans (CAPM), gives nonprofit organizations dedicated to serving Minnesota's API population the chance to network, attend trainings and talk with their representatives about issues that affect their communities.
The day began with a gathering in the Minnesota State Capitol's building. KOM sat among a crowd of other API-focused organizations in the Capitol's stately rotunda to hear half a dozen Minnesotan lawmakers and administrators speak, including CAPM Board Chair David Maeda, Sen. Carolyn Lane, Sen. Foung Hawj, Rep. Samantha Vang, Councilmember PG Narayanan, and Commissioner Rebecca Lucero. Minnesota Governor Tim Walz and Lieutenant Governor Peggy Flannigan also addressed the gathering, highlighting the importance of Minnesota's vibrant API communities to the state. The opening rally concluded with remarks by CAPM Executive Director Sia Her, who reflected on what Minnesota's API communities have achieved, what the future might hold for them, and the importance of legislation to secure that future.
Next, event participants split up to attend various training sessions focusing on the legislative process, community advocacy, nonprofit management, and student/youth engagement. These sessions, run by CAPM staff and volunteers, provided a bridge between the morning rally and the main event of the day: meeting with our legislators.
For KOM and many other API-focused organizations in Minnesota, lobbying our legislators is of critical importance to ensure the wellbeing of our communities. KOM has been closely watching the progress of a number of bills in the Minnesota legislature, and was grateful to speak about these bills with our representatives. KOM members were able to meet with Rep. Tim Mahoney, Rep. Jamie Becker-Finn, Rep. John Lesch, Rep. Jim Davnie, and Sen. John Marty on these issues.
In meeting with our legislators, KOM focused on three bills: the Medical Interpreter Registry Bill (H.F. 479/S.F. 608), the Domestic Violence and Sexual Assault Prevention Program Bill (H.F. 1400/S.F. 875), and the Data Disaggregation Amendment, which is part of the All Kids Count Act (H.F. 1639/S.F. 709).
The Medical Interpreter Bill (H.F. 479/S.F. 608) aims to establish a registry for medical interpreters in Minnesota. Currently, Minnesota simply has a roster of names for medical interpreting; under the Medical Interpreter Bill, interpreters would be listed by certification level. The bill also includes stronger training and certification requirements for interpreters working in medical settings. KOM is pushing to ensure that these requirements, while ensuring quality interpreting, are not excessively restrictive for interpreters of less-spoken languages like Karen, which suffers a dearth of accurate medical interpreters.
The Domestic Violence and Sexual Assault Prevention Program Bill (H.F. 1400/S.F. 875) allocates $5 million to fund various state-backed domestic violence and sexual assault prevention programs. Surprisingly, there is currently no state funding for domestic violence and sexual assault prevention programs — only for sex trafficking and sex violence prevention. This bill was originally written with input from CAPM and the Minnesota Coalition of Battered women. While it would certainly help all Minnesotans, KOM especially recognizes the value of this bill for women and men in the refugee community from Burma.
Listening to Minnesota's API lawmakers speak at the opening rally.
The Data Disaggregation Amendment of the All Kids Count Act (H.F. 1639/S.F. 709) passed into law in 2016. The bill requires data on race and ethnicity to be expanded upon: for example, instead of using "Asian" as a category for race and ethnicity data, data would now be collected using categories like "Karen," "Chinese," "Hmong," or "Indian." Disaggregating race and ethnicity data in this way would allow the state to get a clearer picture of the different challenges faced by each of these communities, challenges obscured by lumping them all under the single category "Asian." Recently, a bill was introduced to the Minnesota legislature that would remove the Data Disaggregation Amendment from the All Kids Count Act. KOM joins CAPM and the Coalition of Asian American Leaders (CAAL) in opposing the repeal measure.
We would like to extend our heartfelt thanks to CAPM for organizing this amazing event yet again this year. Not only does it allow KOM to network and learn from other API nonprofits, it gives the Karen community in Minnesota the chance to be heard by our lawmakers and have our needs be addressed. Ta blut doh ma!