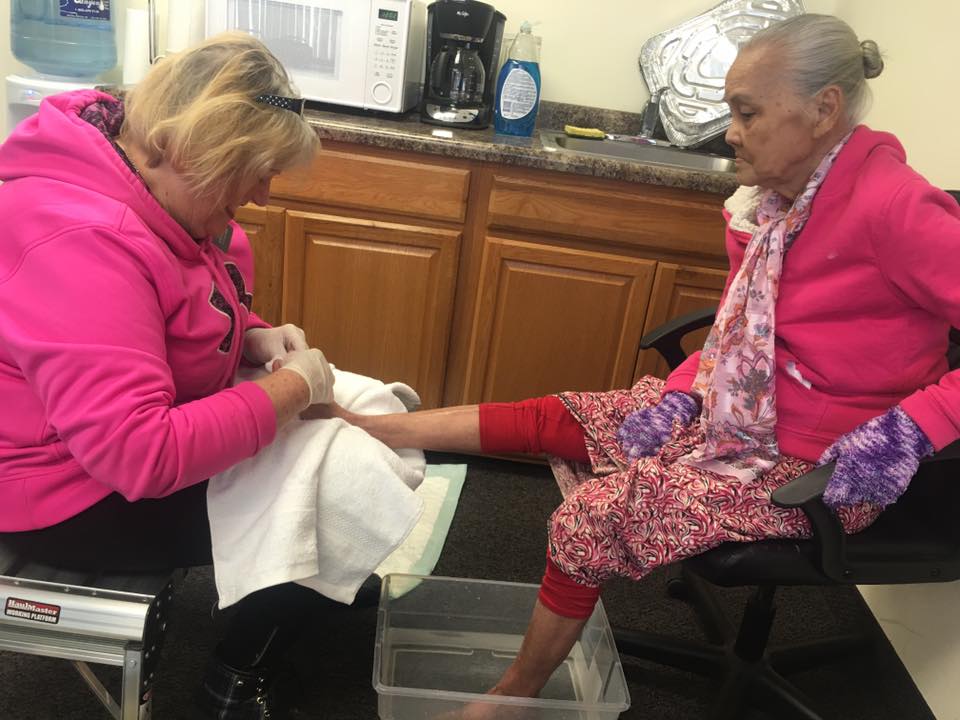 Roma Hurley, a volunteer in the ESL class, trims the toenails of a KOM client during a toenail clinic she hosted. Hurley is motivated to serve refugees both in the classroom and outside of the classroom.
At the beginning of September, Ta Bo Ra contacted Community Engagement Specialist Rebekah Jacobson with an interest in volunteering at the Karen Organization of Minnesota (KOM). She had to complete 25 hours of service-learning for her human services class at Century College.
Ta Bo Ra began coming to KOM's office every Monday afternoon to assist with walk-in services. At first, she worked with Social Services Coordinator Chrit Hen, and eventually she started working with clients on her own.
"This opportunity has been very beneficial, because I have gained a huge amount of experience [in human services]," said Ta Bo Ra. "I now know how to fill out a variety of forms for Ramsey County, health insurance, and more."
Ta Bo Ra was one of 80 volunteers that served Karen and other refugees from Burma at KOM in 2016. This is double the amount of volunteers from 2015. Additionally, the 80 volunteers served a total of 747 hours.
"Volunteers at KOM play a huge role in our organization," said Jacobson. "Our ESL class students receive more one-on-one support, students in our youth program receive more opportunities to speak English and go out into the community, and more clients receive services in our office."
KOM has four main volunteer positions: ESL tutors, youth mentors, bus buddies, and office assistants. The youth mentor program is the most popular volunteer position, attracting 41 mentors that befriended 47 students in 2016.
Tegan LaBerge, a youth mentor at KOM for the 2015-2016 school year, shared that she appreciated the chance to positively impact the life of a Karen youth while getting to learn about Karen culture.
"I learned so much about Karen culture that I wish I knew earlier," said LaBerge. "Our mentees are incredibly generous and often invite us to eat with them or hang out with the rest of their family. It has been so fun and rewarding to watch the girls learn and make friends at school."
Other youth mentors also shared that this experience opened their eyes to the joys and challenges that refugees face when they come to the U.S.
Volunteers also enjoy volunteering in the ESL class that has been held at KOM since February 2016. In 2016, 25 volunteers served in the ESL class leading small groups, helping students with writing and reading, and even teaching lessons.
Roma Hurley and her husband started volunteering in the ESL class in November 2016. They learned about KOM through their church, where several Karen families attend.
"[The Karen] are a beautiful and loving people and we have developed a sincere desire to help them in any way we can," said Hurley. "We want them to have a good life here in America and would like to help them integrate and have a good quality of life. They deserve good things in their lives and to be able to attain their goals and dreams just like the rest of us."
The Hurleys have had a rewarding experience volunteering at KOM. They have befriended several Karen in the classroom and outside the classroom, and often teach lessons in the ESL class. They would like to encourage others to volunteer if they are interested in learning about the Karen and helping them adjust to their new home.
"I feel like we get so many blessings when we try to do things for others, that it is not a sacrifice at all. It is a real joy to work with everyone at KOM," said Hurley.
If you are interested in making a difference in the lives of Karen and other refugees from Burma, fill out a volunteer application.