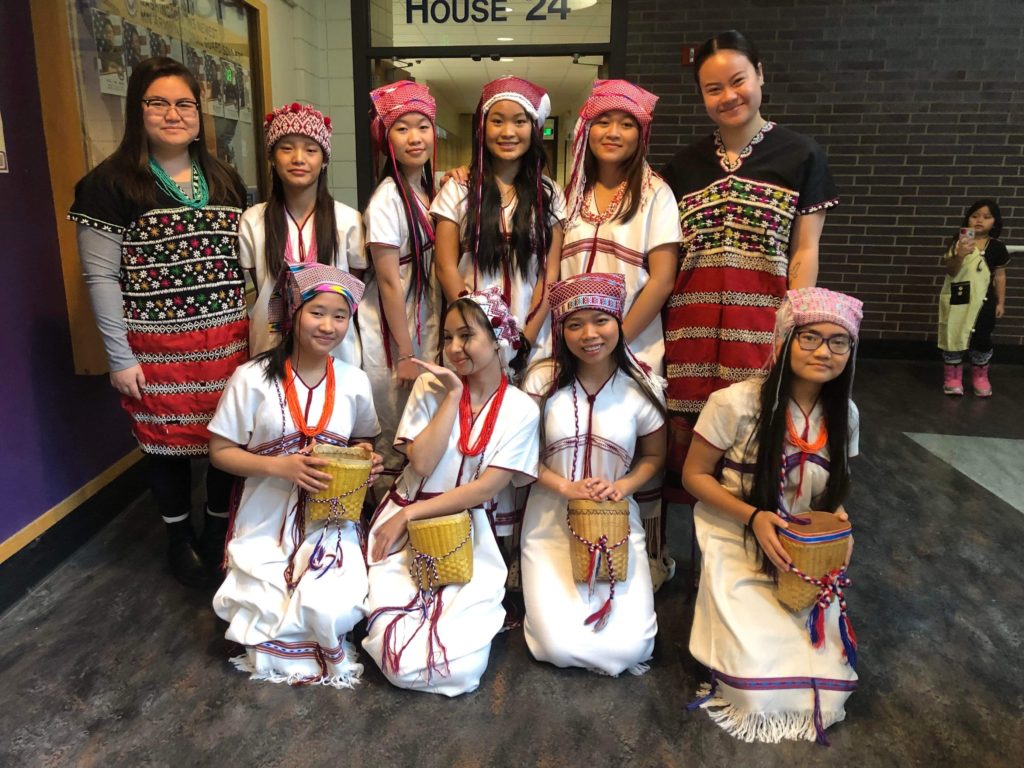 This year, KOM participated in two 2762 Karen New Year celebrations. The Karen Community of Minnesota organized one event on December 17, 2022 at Washington Technology Magnet School. This included a full-day celebration with a main ceremony, resource fair, traditional culture show, and a lively volleyball tournament.
Pictured above: KOM Youth Coordinator, Mular Lerpwel, and KOM Youth Program Manager, Lah Tha Pwee, pose with KOM youth who performed a traditional dance on the main stage at Karen New Year on December 17th.
On the first day of 2023, our staff also attended a Karen New Year Celebration organized by the Karen Culture Organization of Minnesota (KCOM). Also held at Washington, KCOM's event filled the space with dance, fashion shows, performances, and live painting. A unique aspect about this celebration was the inclusion of some traditional Karen Buddhist and Animist practices for welcoming in the new year.
Welcoming the Year 2762
The actual day of Karen New Year fell on December 20th, 2022. That marked the first day of Tha Lay in the Karen lunar calendar for the year of 2762. This day usually happens at the end of December or beginning of January in the Western calendar. It marks the end of the harvest of one rice crop and the beginning of the next rice crop.
The Karen New Year Celebrations are important gatherings in the community that celebrate new beginnings. Every year over 1,000 Karen and other community members share in the festivities. Together they cultivate friendships and participate in Karen cultural traditions.
The community in Minnesota has been celebrating Karen New Year for almost 20 years. Wherever Karen families are gathered, from Thailand to Texas, the Netherlands to Minnesota, you will find celebrations of Karen New Year. If you missed it this year, we hope you can join us in the festivities in 2763!