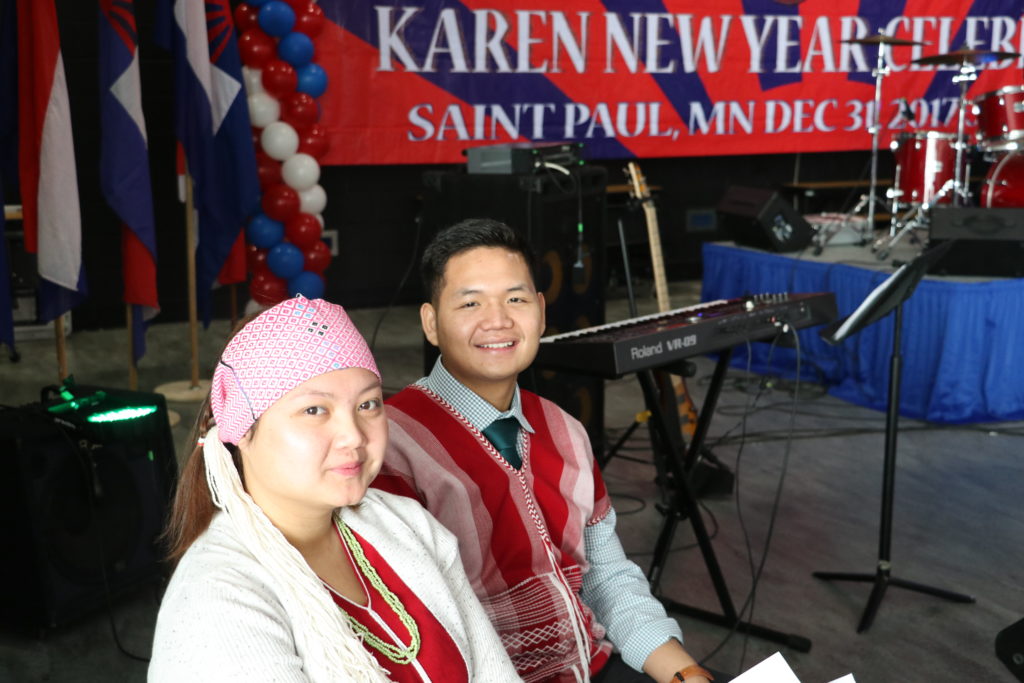 Happy New Year to all! This year, the Karen New Year celebration at Washington Tech Magnet School, drew about 1,000 people despite the sub-zero temps!
The event began with a welcome address a brief history of Karen New Year and why it is celebrated. The auditorium was so full of people that many were gathered at the 'balconies' in order to see the stage, since all the chairs were filled.
As part of the main program, there were dance performances, including a Karen bamboo dance performed by youth from our program, a Karen young women's dance, hmong dancers, and a cultural dance. There was singing by famous Karen singers from Burma, a kids karaoke competition and an adult choir competition. A fashion show was also held that depicted various cultural clothing from different ethnic groups in Burma.
Besides performances, we also had a guest speaker from the Saint Paul Police Department, Police Chief Todd Axtell. He thanked the Karen for making Saint Paul home and wanted to remind everyone that the Police Department is here to help and support the community. We want to thank him for speaking and thank him and Senior Commander Robert Thomasser for joining us in celebrating the New Year.
If you didn't want to sit down during the main program, no problem! Throughout the event there were tons of Karen clothing items and food for sale, as well as a volleyball tournament happening in the gym. As part of the morning, a resource fair was held where anyone could learn about various services, programs and other resources in Saint Paul. Not to mention, many of the tables had free information handouts and candy!
Prior to the main event on Monday, January 1st, a New Year's Eve concert was held the night before. The concert featured many famous Karen singers from Burma who also performed on Monday. Again, the auditorium was packed on that cold night, and singers were honored with flowers and yarn leis during their performances.
We want to thank Washington Technology Magnet School and Saint Paul Public Schools for allowing us to hold Karen New Year in this space. It is a wonderful building for hosting our New Year event and we appreciate being able to use it this year and having been able to use it in the past.
To everyone who came, thank you so much for supporting the Karen community in Minnesota. We hope to see you at other events throughout the year!
If you weren't able to make it this year, remember to come next year!
Ta blut doh ma! (Thank you very much!)