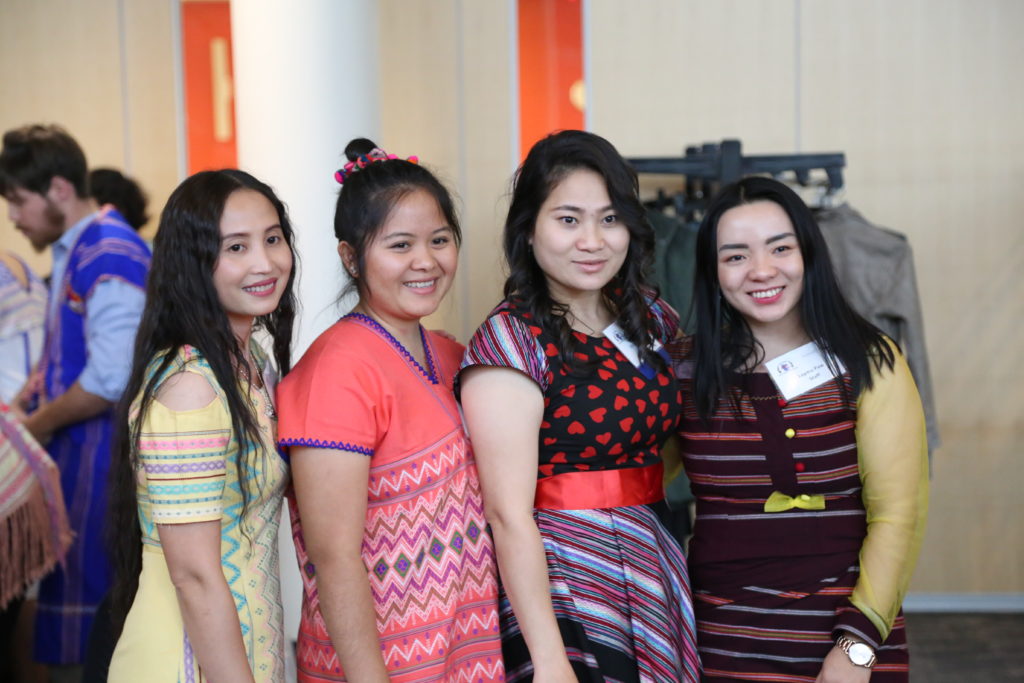 For over ten years, KOM has had the privileged to invest in the Twin Cities' Karen community. We have been able to see the growth and impact of both our programs and volunteers, and we relish the opportunity to share our accomplishments. Our gala is the perfect opportunity to share with our sponsors the important work that KOM is doing. We are so thankful to everyone who was involved with our 2019 Gala, whether as donors, attendees, or volunteers!
Partners
We are elated to share that our 250 guests raised over $16,000! KOM is grateful for the donations and beyond excited to see how our programs grow over the next year. We would like to give a special thanks to each of our donors and to specifically recognize our gold sponsors: Health East and Fairview, and Japs-Olson Company. We also had several silver sponsors including, BIX Produce Company, Hiway Federal Credit Union, Lexdan Automotive, and Roseville Area Schools, as well as, over 15 bronze sponsors.
Speakers
The theme of this year's gala was "young adult leaders," and we were excited to have our keynote speakers be three young adults- Neymu Tor, Sernai Htoo, and Gay Ka Mwee-each of whom has significantly impacted the Karen community through their leadership.
Neymu Tor
Neymu Tor spoke first, sharing about his experience with leadership and how KOM has played a roll in its development. He began by encouraging those interested in leadership by saying,
Being a a good leader is not always about being smart, capable, or successful–leaders are meant to serve….We all have leadership roles to play in our community…'[ask] how can I help?
Neymu continued to share how KOM has been involved in his leadership journey, "KOM has set a great example for the youth. KOM taught me that to be a good leader we have to listen to others, get involved, and work with others. Because it is very important to get along and gain trust and respect from [our community]." Neymu ended by saying that he hopes to see Karen youth become more involved in the community. He believes that, "together we can build a better community for our people."
Sernai Htoo
Following Neymu, Sernai shared his story about growing up in a refugee camp–a place, he said, "that is a dead end,"– and his families resettlement in Minnesota, including the challenges they faced because of language barriers. Sernai was determined to not let roadblocks limit him and, in two years, he finished his high school degree. He then decided to attend college in order to set a good example for his younger siblings.
In 2016, Sernai was hired as a community liaison officer for the St. Paul police department. Looking towards the future, his goal is to further his education and become a valuable resource for those who might need his help. He especially hopes to become a role model for the next generation. Sernai ended by thanking KOM's involvement and help during his family's resettlement.
Gay Ka Mwee
Our final speaker, Gay Ka Mwee shared about how she has made leadership a key element of her life. She called other Karen youth to join her in advocating for the community. She began her speech by asking,
What does it mean to be a young Karen leader? For me, being a young Karen leader means more than just getting people together or getting people to follow me, being a young Karen leader means generating new ideas and strategies.
Gay Ka Mwee has lived out her vision of leadership: she was the only female young adult to speak at Karen Day in Washington, D.C. in 2018. She also started the Karen Student United Association at her school, Metropolitan State University. She hopes that other youth will rise up and speak for the Karen community–specifically young women. When asked how to practically implement leadership, she shared several skills, "Be a good listener and value other people's perspectives. Stay positive. Practice being resilient and being humble." As she finished, Gay Ka Mwee stated, "Because of KOM I am a leader now. I know that I have a future."
Entertainment and Vision
Along with our wonderful speakers, we were blessed to hear from Eh Wah and Eh Ler Tha–two prominent Karen singers. They performed several beautiful songs in Karen at the beginning and closing of the program.
We were also grateful for the opportunity to share KOM's future vision for the organization with our sponsors. Board Chair Maureen Rafferty shared KOM's strategic goals which will be implemented over the next three years:
By increasing our leadership and diversity and enhancing the quality of our services, positioning ourselves for future growth and change, and raising our visibility we will strengthen KOM and the community that we are honored to serve.
KOM's treasurer Tim O'Brien helped close this year's program with an endorsement of our Htee Moo Fund. "Htee Moo" is a Karen term that describes a stream that won't run dry. It's a fund that emphasizes small, regular donations. Knowing we have regular gifts helps assure that we can focus on what we do best: helping refugees build happy, successful lives in Minnesota.
We were also blessed during our program to hear a letter from Amy Klobuchar read.
KOM would like to extend a special thanks to Hamline for allowing us to use their wonderful facility. We were also blessed by Hamline's McVay youth partnership and the Karen students who volunteered before and during the program.
We are also thankful to everyone who donated to our silent auction, we had a variety of wonderful items!
Our gala was an incredible success and we look forward to sharing with you the impacts that KOM is going to make throughout the coming year!
Enjoy some photos from the gala! We will also be posting a video on our Facebook page soon!