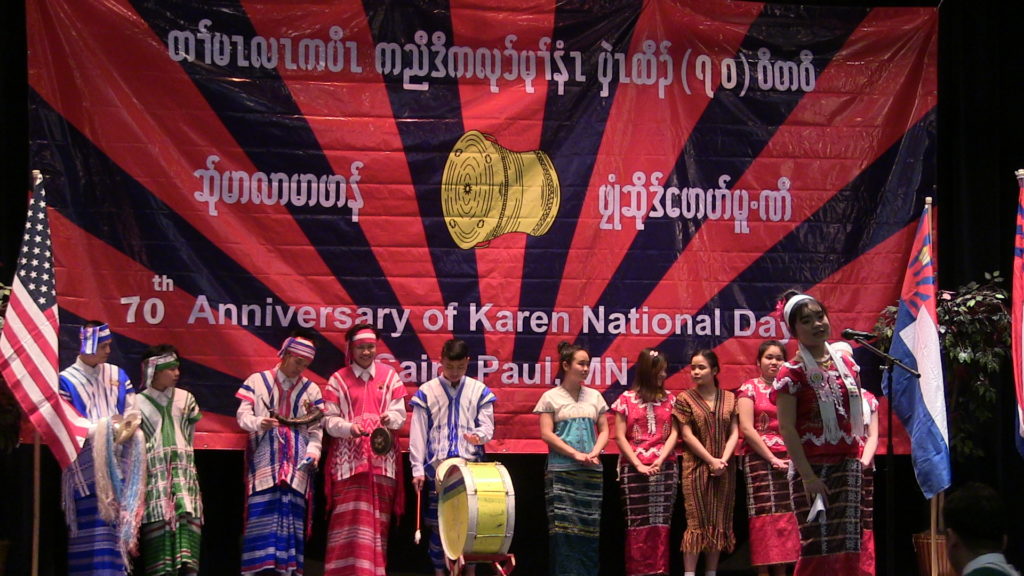 February 11th, 2018 marked the 70th anniversary of Karen National Day, which commemorates the day in 1948 when Karen people demanded their own homeland. We celebrated in Saint Paul at Johnson High School with speeches, songs, dance performances and more by various Karen organizations. Two leaders from the Karen National Union (KNU) also visited from Karen state in Burma.
Hsajune Dyan, KOM's board chair gave a speech, as well as leaders from the Karen Community of Minnesota (KCM). Both of the KNU leaders, the General Secretary Pah Doh Hla Tun Aung and Vice Chairperson Pah Doh Kwe Htoo, also spoke during the event. In between speeches, youth from KCM sang a song as a choir, as did youth from the Karen Culture Organization of Minnesota (KCOM).
Last, but most certainly not least, came the many dance performances. There were two don dance performances, one shorter dance by KCOM and a longer performance by the Karen Buddhist Society of Minnesota (KBSM).
Youth from our KOM program performed a Karen bamboo dance, and Karenni youth performed a traditional Karenni dance. Finally, KCOM closed the event with a Karen culture dance, which showed partners coming forward and demonstrating traditional Karen customs through dance.
After the program, everyone enjoyed a delicious lunch together.
This year had the highest turn out compared to the last few years, with about 200 attendees! Many thanks to everyone who helped coordinate this event, to the performances and involvement of various Karen groups in Minnesota, and to all who attended.