Homebuyer Education for Karen Speakers
September 16 @ 8:30 am

-

5:00 pm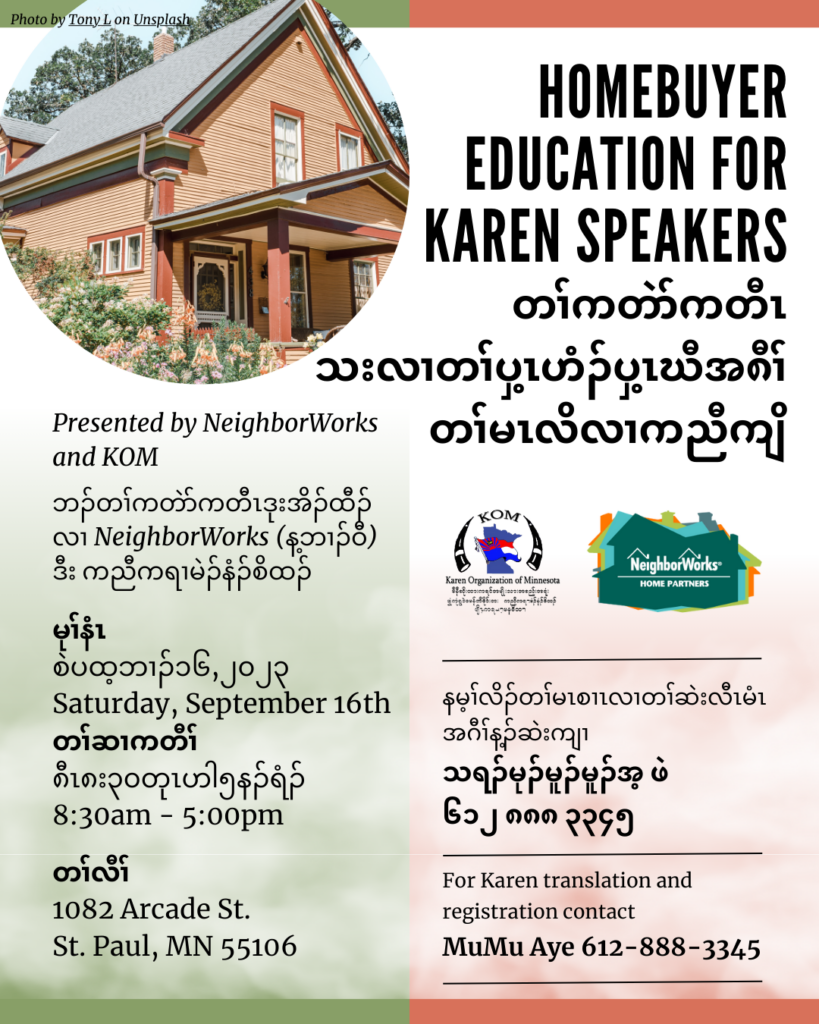 Buying a house can be overwhelming, but you can do it!
Join us in-person on Saturday, September 16th from 8:30 AM to 5:00 PM for our Karen Home Stretch Homebuyer Education Workshop
(

တၢ်​က​တဲာ်​က​တီၤ​သး​လၢ​တၢ်​ပှ့ၤ​ဟံၣ်​ပှ့ၤ​ဃီ​အ၈ီၢ်​တၢ်​မၤ​လိ​လၢ​က​ညီ​ကျိ​

).
For Karen language assistance, contact MuMu Aye at (612) 888-2245
(
န​မ့ၢ်​လိၣ်​တၢ်​မၤ​စၢၤ​လၢ​တၢ်​ဆဲး​လီၤ​မံၤ​အ​ဂီၢ်​န့ၣ်​ဆဲး​ကျၢ​
သ​ရၣ်​မုၣ်​မူၣ်​မူၣ်​အ့​
ဖဲ​
၆၁၂​
၈၈၈​
၃၃၄၅​
).
We walk through all the steps of purchasing a home so that you can better understand how the process works and be equipped with information that makes you a confident and powerful purchaser. These 8-hour interactive workshops are taught by homeownership advisors and mortgage and real estate professionals, so you will have a chance to get answers to your questions directly from the experts!
–
Set yourself up for success by attending a workshop. People who participate in education before buying a home are more likely to have a successful experience, including keeping up on their mortgage payments after they buy. Home Stretch isn't just for first-time buyers, either; they can be a great way to find out how markets and mortgage rules have changed.
–
Pre-registration is required and September classes are free. Please note that the registration window closes on September 13, 2023.